About NWGFL
Norfolk Women and Girls' Football League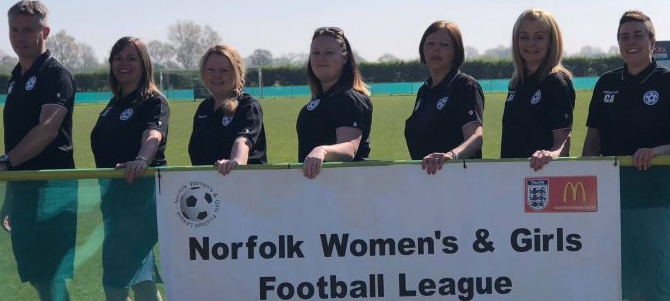 Welcome to Norfolk Women and Girls Football League we are the largest female league in Norfolk with around 115 teams playing in the up and coming season. We are a Chartered Standard League, which means we are working very closely with the Norfolk FA.
Everyone on the league is committed to developing and supporting grassroots football for women and girls in Norfolk.
All committee members are approachable and friendly so please get in touch with if you have any questions or queries.
The Norfolk Women's & Girls' League has once again seen a strengthening of numbers and members although we also understand that the retention of recruitment of players is an ongoing problem for all clubs.
Norfolk's rise in figures is down to the amazing work across the county by its loyal volunteers, coaches and administrators within its member clubs. Norfolk County FA also puts the girls and women's games firmly among its priorities offering taster sessions and school club link support to FA Charter Standard Clubs whist supporting participation from youth football is fantastic and must be continued.
Over the next season, it is imperative that the Norfolk Women's & Girls League supports and works closely with its clubs to maintain standards and continue to raise the bar.