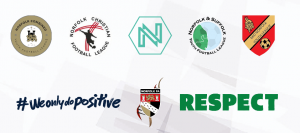 This October we, Norfolk FA and all four of Youth Football Leagues are working together to tackle negative behaviour within Norfolk Football with a localised campaign – Norfolk Football is Positive.
Our campaign's aim is for every young person to enjoy the game within their own environment. Young people choose to play our game and this campaign is only going to highlight the positives of playing football.
Football is a game which is For All and everyone should get an opportunity to play, enjoy the game, have fun with friends and grow their love of the sport.
We have highlighted four key areas from The FA's National Campaign of We Only Do Positive that we feel can improve the behaviour on the side-lines across Norfolk.
Developing an anything possible attitude
Understanding your players better
Creating the right environment
Leading by positive example
Our four key areas will be highlighted in further detail every Friday through October, prior to games taking place on the Saturday or Sunday.
Football Development Officer (Women's & Girls') Harry Diggens said, "This is a fantastic initiative and something which I'm very passionate about. I have been working with all five of our Youth Leagues as well as our Youth Council over the past 10 months to develop this localised campaign. We are wanting to reach out to every youth team playing Norfolk Football and are wanting to make sure the game is played in a fun, safe and enjoyable environment.
"My challenge to Norfolk Football's coaches, parents, spectators and club officials is to make your football environment the best it can be for the players.".
Can you get involved in Norfolk Football is Positive this October? Show of your displays of positivity on social media – tag @NorfolkCountyFA and use the hashtag #NorfolkFootballisPositive.
For more information about October's 'Norfolk Football is Positive' month as well as some customisable digital assets to get involved in the campaign, please contact us.